SharePoint ShortUrl V10 for SharePoint 2016 is now available!
SharePoint 2016 / 2013 / 2010 / 2007: https://sharepointshorturl.com
SharePoint App / Add-in: https://store.office.com/WA104368123.aspx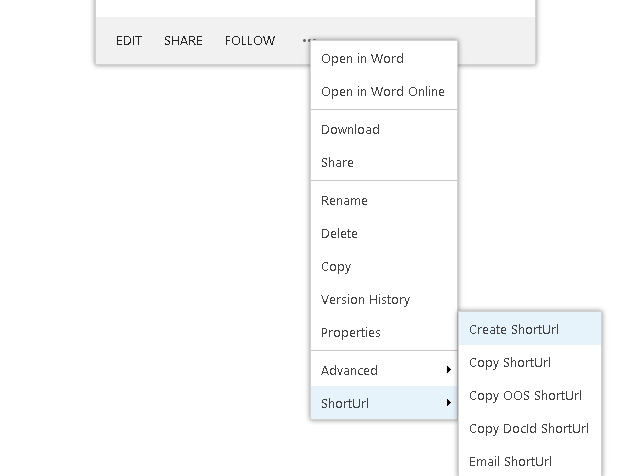 SharePoint ShortUrl SharePoint ShortUrl is a SharePoint solution that allows the creation and use of vanity and shortcut hyperlinks fully integrated within the SharePoint environment. Developed and supported by CIRRUS SOFT LTD, SharePoint ShortUrl is used and trusted by many of the top companies worldwide!
This makes emailing the link, putting it into documents or even saying it over the phone a much simpler and less error prone. Using SharePoint ShortUrl a shortened hyperlink can be created to any Page, List Item, Document and View within SharePoint. Also to any external Url - including ftp and mailto. With SharePoint ShortUrl you can create ShortUrl's directly from the Site Actions Menu and/or any List/Library items Context Menu. If a ShortUrl has already been created, you can instantly copy to the clipboard, email the link directly (the link will be opened in your email client) and edit the shortened hyperlink. All the ShortUrl's are stored in a regular SharePoint List which allows for all of the standard List functionality of audit trails, workflow, security permissions, item approval etc.
By having a cleaner way to manage lengthy hyperlinks, you will gain a very significant productivity improvement with hardly any effort or expense
SharePoint ShortUrl Features and Benefits:
Create ShortUrl's for any Page, List Item, Document, View, External links (FTP, Mailto).
Easy, instant access via Site Actions, Ribbon Menu and Items Context Menu.
Open email client with ShortUrl for sending.
Date expiry for short lived Hyperlinks.
Hyperlink ownership for audit trails.
Very easy to install. Very easy to use, no training required.
Tightly integrated with SharePoint and Improves productivity.
Multiple ShortUrl's to the same destination.
ShortUrl Click Analytics / Tracking Feature!
Select ShortUrl Redirect Type (301 or 307).
Excellent UK based support!
---