SharePoint Document Merge V3.0.0.3 is now available!

Select multiple templates in one go!

SharePoint App / Add-in: https://store.office.com/WA104379659.aspx
SharePoint 2016 / 2013 / 2010: https://sharepointdocumentmerge.com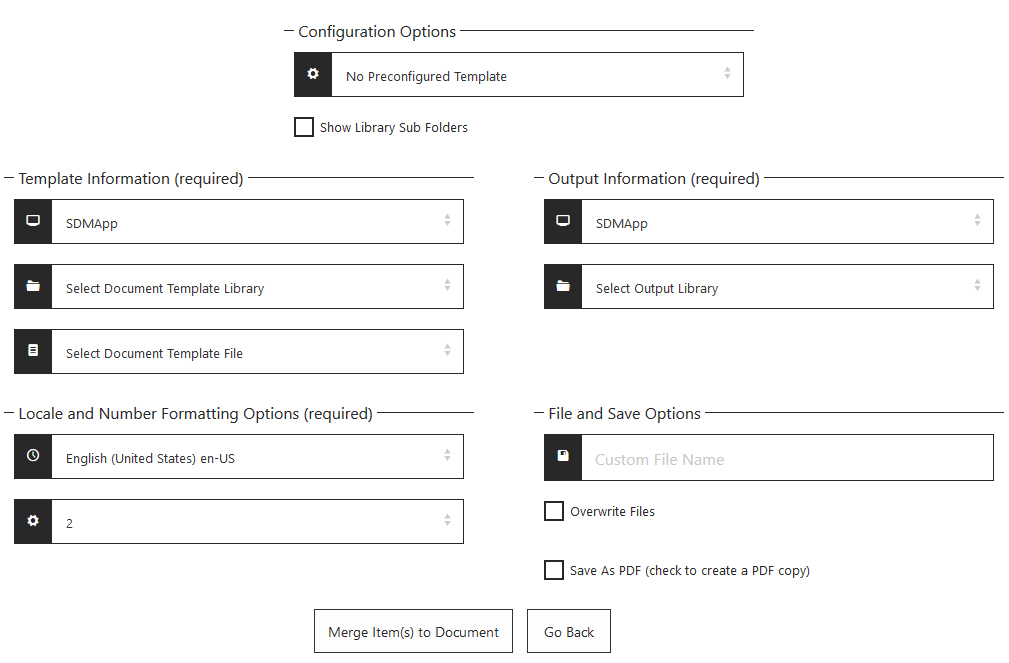 SharePoint Document Merge is the simple, fast and clean way to merge SharePoint list data into predefined Word, Excel and PowerPoint document templates with NO CODE!
Define Word and/or Excel templates, store them in document libraries or access them from a drive location, then easily merge those templates with data from SharePoint lists. Automatically generate and output the populated documents to a user specified SharePoint document library.
Select multiple SharePoint list items or Bulk Merge an entire list. A document for each list row (based on your selected template) will be automatically created and stored with a customisable file name to be easily identified.
SharePoint Document Features and Benefits:
Merge any SharePoint list data into Word, Excel and PowerPoint Templates with NO CODING!
Fast, save data entry time and increase productivity.
Very easy to install. Very easy to use, no training required.
Tightly integrated into SharePoint. Easy access via Ribbon Menu and Items Context Menu.
Simple Template Creation using Merge Field (Word) or Placeholders (Excel, PowerPoint).
Display Images for Image Hyperlinks (Word).
Specify output SharePoint document library and customise document file names.
One click automatic creation of multiple Merged Documents!
Merge multiple SharePoint list data into 1 Single Word Document (Choose to merge multiple Word documents to 1 single document).
Merge multiple Word documents into a Single Word document from within a Document Library.
Merge multiple PowerPoint Documents into 1 Single PowerPoint Document from a Document Library (Choose to merge multiple PowerPoint documents to 1 single document).
Automatically create accompanying PDF documents.
Save Word and Excel Documents as .PDF.
Merge Rich Text Field Content.
Merge with Related List / Merge Repeated Rows!
Selection Of Locale
Set Decimal Places
Pre-set configuration Templates
Remote Event Receiver Automated Workflows! (Trigger Document Merge events on item added and item updated)
Merge to multiple templates in one go!
Now Event Receiver can use use Pre-set Document Merge Configuration Templates!
Excellent UK based support!
---